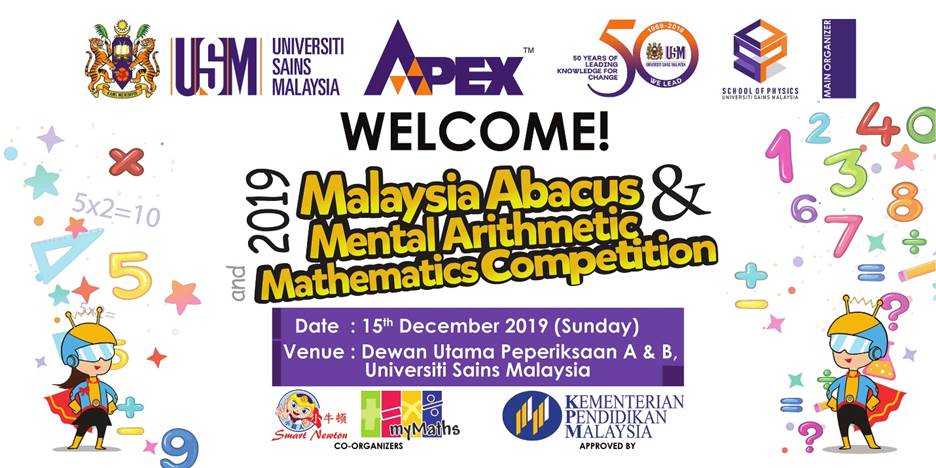 Registration Deadline Extended to 15 September 2019.
报名截止日期已经延长至 2019年9月15日
Due to numerous requests for an extension of the deadline. The organizers have agreed to extend the deadline for the registration. You are welcome to register by following the link available from https://forms.gle/azts1miNFDyyizqE9
2019马来西亚珠心算和数学大赛简章
2019 Malaysia Abacus & Mental Arithmetic and Mathematics Competition Rules and Regulations
宗旨:推广珠心算和奥林匹克数学教育,提供学生学习交流平台,培养孩子的临场经验,训练胆识,提升接受挑战之能力。
Objectives: To promote the education on the abacus, mental arithmetic, and Olympiad Mathematics, provide learning and exchanging platform for the students, develop children's on-site experiences, encourage and enhance their ability to face challenges.
时间、地点、主办单位详情 Date, venue and organizers
比赛项目及分组限定 Competition Category and Grouping Regulations
心算组 Mental Arithmetic Category
选手T恤尺寸对照表 Contestants T-shirt size comparison table
团体报名表格 GROUP REGISTRATION FORM
教育部批准函件 SURAT KELULUSAN PERTANDINGAN ARIMETIK MENTAL DAN MATEMATIK MALAYSIA 2019
如有任何疑问,请与我们联系: smartnewtonbayanlepas@gmail.com
For any queries please contact us at smartnewtonbayanlepas@gmail.com